SEPT/OCT 2020 –
I have just completed a risk assessment for running this class to comply with COVID guidelines for studio classes and am pleased to announce this class will restart on Tues 29th September! Numbers limited to 12 people to allow for physical distancing, and classes are payable half termly in advance. This session is full at the moment, but if you would like to be put on the waiting list, please email sue@feetbeats.com!
Beginners / Improvers
Tuesdays 6.30 – 7.30pm (term time only – for full term dates, please see 'News") 
Newcomers welcome at any time
Kelvin Players Studio, Gloucester Rd, Bristol BS7 8NY (map)
'…Really enjoyed it! Lots of fun and clear instructions.'
'An excellent and inspiring teacher – thank you.'
'Love the music!…'
Suitable for complete beginners, those who haven't tapped for a while, or more experienced tappers who want to refine their technique.  After a simple warm-up, the first half of the class consists of learning steps, amalgamations and rhythm exercises.  During the second half of the class we gradually build up a routine over 4 or 5 weeks.  The emphasis is on learning tap in a fun, relaxed atmosphere to a wonderful soundtrack of jazz, blues and the best of the musicals. 
Tap Shoes 
Some shoes available to borrow on a first come, first served basis – free for your first lesson and £1 per time thereafter.
Cost:
Due to Covid restrictions, this class is only payable half termly in advance by electronic transfer.  Email sue@feetbeats.com for more details
Assistant Teacher – Katherine Drake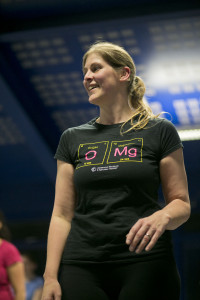 Katherine has been tap dancing since she was 7 years old and has never stopped!  She has been assisting Sue for the past 5 years and is on hand to specifically look after any newcomers to the Beginners/Improvers class. Her warm personality and tremendous patience put beginners at their ease instantly. As well as being an accomplished tap dancer, Katherine is also a fully qualified Engineer. "…I get great pleasure from leaving the kids and work worries at home, putting on my tap shoes and bashing the floor. It's wonderful exercise for both the body and the brain and I hope to keep tapping for as long as I possibly can!…"
For further information, please contact 
sue@feetbeats.com or call 0783 775 9740
Intermediate / Advanced class
Wednesdays 7 – 8pm (term time only – for full term dates please see  'News') 
CANCELLED UNTIL FURTHER NOTICE DUE TO COVID-19 OUTBREAK.  We hope to resume soon!
Drama Studio, Cotham School, Cotham Lawn Rd, Bristol BS6 6DT (map)
For the more experienced tap dancer, this is a faster paced class with more challenging combinations and rhythms.  Soundtrack varies from jazz and blues through to Latin, hip hop and not forgetting those classics from the Hollywood era.
Cost
This class is payable half-termly in advance (no concessions).  One trial class can be taken with the remaining balance payable if you decide to continue.
For further information, please contact 
sue@feetbeats.com or call 0783 775 9740